The band, Bio and Stage plan
Dr. M - rap and keyboard
Lucie K. - vocals
Alena K. - vocals, flute
Sony B. - electric guitar
Karl - percussion
J. Hooker - bass guitar
Wilfried von Hirt - drums
We are a Prague-based team of international musicians bringing you the music of our world. Our name is a parody of the 8 superpowers. If your PC has audio, you are already listening to our ethno beats with NYC jazz, R&B, funk and rap, a fusion of harmonies and tight rhythms – our 3D trademark sound. We think and sing in several languages.
Check out the world we live in, good and bad, sad and funny but always rhythmic. Our first CD "G8 Transglobal" (SONY BMG) is still being actively downloaded here and from all servers, the next is on the way, with four samples on this site. Catch us in the Czech Republic, Europe or the USA.
G8 Transglobal. The rhythm of life. The music of your world.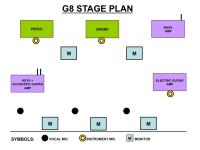 Stage plan